I've been to Tokyo Sky Tree opened in May, 2012 with my friend from USA.
This is the photo which I looked up at and took from the SKYTREE entrance of the fourth floor of Tokyo Solamachi.
The top can't be seen.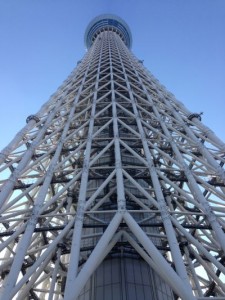 This is the photo I took from the smoking space where is just off the SKYTREE entrance.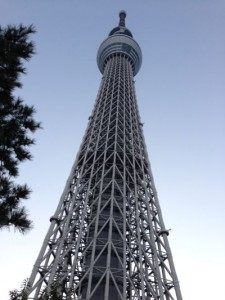 Although we reached there before 2:30PM., there were many entrance candidates and we couldn't purchase a ticket until 6PM.
So, we decided to get a numbered ticket, and to see and turn around other places till 6PM.
My friend said, "Is this Disneyland??".
Because we found the planetarium the "Tenku" when we looked for the place where we could be interested in inside Tokyo Solamachi, we reserved the tickets from 5:00, and went out of Tokyo Solamachi.
However, we couldn't find out any other nice place to see, we went to an Italy restaurant Palazzo SAN GUSTO and we ate the pizza (small) instead of a snack, and returned to Solamachi.

Then, we loitered the inside in Solamachi and looked at the planetarium from 5:00. (I might have slept about 1/4 of the show.)
We could rank with the long line which purchases a ticket at last at 6PM, stood in a line for about 1 hour, and purchased the ticket.
Then we reached "TEMBO Deck" 350-m-above ground a little ago 7PM.
We purchased immediately the admission ticket of "TEMBO Galleria" which is on 100m from there further, and, 10 minutes afterward, were able to arrive at "TEMBO Galleria."
The view from there is this.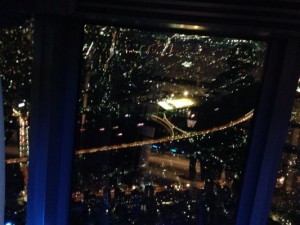 Although outside was pitch-black and it was beautiful as it was, I wanted to see the scene of daylight time.
At least, the night scene of "TEMBO Galleria"doesn't look great on us, two old guys!

With this photo, Tokyo Tower looks small to in the distance.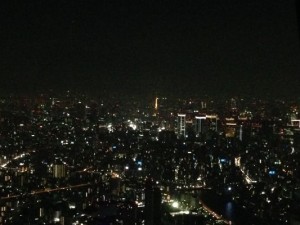 We returned to "TEMBO DECK", after inspecting briefly. And we did the coffee break by SKYTREE CAFE on the floor 340.
Then, this is the photo at "glass floor" of the same floor. Although it had a tremendous impact in reality, because there were many people and we had to went through quickly, we couldn't take in a scenic overlook of there very well.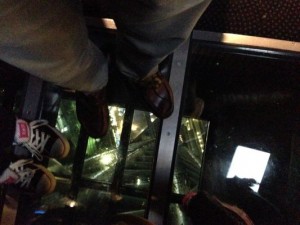 This is the photo from the smoking area again.
The tower was lit up brightly.
It is said that it is the Christmas limited writing a "white tree."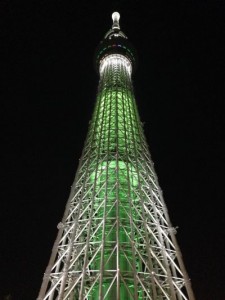 When I looked at the side of the tower suddenly, the beautiful moon appeared.
Fortunately, I was able to put them into one photo somehow.