I have been to the cherry blossom viewing party sponsored by my friends at Kinuta Park together with Kojiro following last year.
At dusk, it was very beautiful that the pink of cherry blossoms was gradually being dyed light orange.

When Kojiro was sniffing the ground, it became such a thing by chance! (the petal of cherry blossoms was under his tip of the nose!)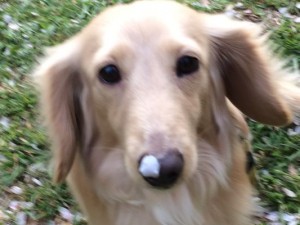 He didn't notice that though.
In addition, all the photos were taken using "Fine Camera".