I have to tell you sad news today. 25 May 2013.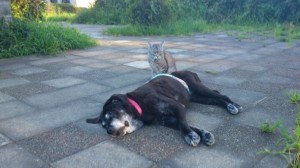 Today, I heard May past away on this 15th January.
I heard She had become bedridden for three days and at last she ended 17 year's her life.
Today, I was able to meet May's family and Nyanta, a cat who was a chummy with May and her family told that.
I asked Nyanta please live a long time instead of May and Nyanta said meow, he meant I had got it, maybe.
I couldn't stop help tearing at that time.
Alittle while ago, I asked Kojiro holding that please mature his life slowly.