Because two and half years to the day since I stopped enjoying surfing, all of the muscles made outcries.
So, I woke up three times last night due to the pain of various leg cramps.
Everytime I woke up, I had to massage by myself more than thirty minutes to allay the pain.
What a poor body I had!!
I had a breakfast at SAILS RESTAURANT and after that I had a coffee at ANDAMAN LOUNGE.
At the lounge, suddenly a bird appeared and he/she wanted to cookies served with a coffee.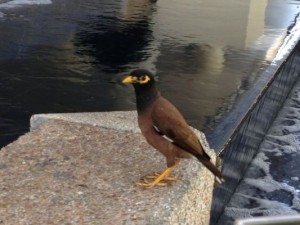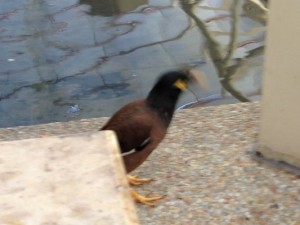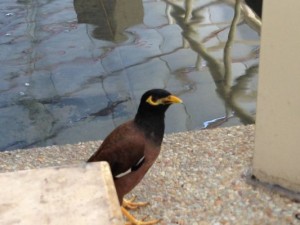 Secretly I gave some crumbs of the cooky. Then he/she gazed at me like saying give me more.
So, I said "No more!" in a small voice and he/she seemed to give up.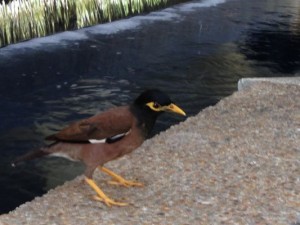 Well then I enjoy surfing at Kata Yai Beach today too!
So, I made a phone call to Natsumi at "Tokonatsuya" and asked her how to handle my car key.
She gave me a useful information most people seemed to prepare a small bag in order to put into small change and the key of the car and then rend a beach bed at a rental beach bed store on the beach and placed the bag under the towel on the beach bed.
I tried it and it was really nice because I was able to have a break using the beach bed between surfings and replaced lost water from seaside store easily.
ขอบคุณครับ, Natsumi!!
BTW, 100 Baht for a beach bed whole day and 30 Baht for a canned juice.
When some stopped motorbikes were obstructive in the parking lot of Kata Yai Beach and I was in difficulty on parking my car, a local surfer moved those motorbikes for me though those were not his own motorbike, and also he taught his friend had said today that waves at Kata Noi Beach were better. ขอบคุณครับ, the local surfer!!