The following items are updated by V1.60.
1) This version conformed to iPhone SE.
2) The camera preview screen is available at the external display by using HDMI and AppleTV.
The camera preview screen shown to a television in real time is like this.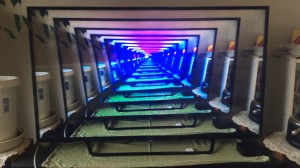 3) The defect which isn't indicated right at the time of the aspect ratio and a photography mode change was corrected.
4) It became faster to lock focus/exposure by a tap of a finger and two fingers.
5)Several minor updates were made.